Miriam Spering
The Neuroscience of Seeing and Moving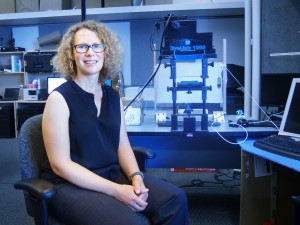 Miriam Spering
University of British Columbia
Neuroscience of Vision and Action (NOVA) Laboratory
Dept. of Ophthalmology & Visual Sciences and Center for Brain Health
Institute for Computing, Information and Cognitive Systems (ICICS)
International Collaboration on Repair Discoveries (ICORD)
Abstract
Human movement relies on an intricate choreography of cognitive, visual, and motor activity in the brain. In my talk I will provide an introduction to the neuroscience of movement with a focus on the close coupling between vision and action.
Good vision is paramount for a large variety of everyday tasks involving simple movements, such as reaching for a glass of water, and more complex ones, such as taking a swing in baseball. One of the ways in which we achieve good vision is by moving our eyes. Humans use a combination of many different types of eye movements in order to see better, to guide goal-directed movements to physical objects in our environment, and to control posture, balance and gait.
Despite the close link between vision and action there are instances where we may act upon something we do not see. I will show that movements can be performed in response to visual events that we are completely unaware of. Studies of this kind help us tap deeper into the brain processes underlying vision and action. I will also provide an overview of how these fascinating findings can be used for applications in skilled performance and clinical settings.
Bio:
Dr. Spering is a psychologist and neuroscientist investigating how the brain uses visual information to control movements in humans. She is Assistant Professor in the Dept. of Ophthalmology & Visual Sciences at UBC, a member of the Centre for Brain Health, the Graduate Program in Neuroscience, the Institute for Computing, Information and Cognitive Systems (ICICS), and the International Collaboration on Repair Discoveries (ICORD). Dr. Spering directs the Neuroscience of Vision and Action (NOVA) lab at the Blusson Spinal Cord Centre at UBC. Prior to joining UBC in 2011, Dr. Spering was a postdoctoral fellow at New York University, funded by the German Research Foundation. She obtained her doctoral degree (summa cum laude) in psychology and neuroscience from the University of Giessen, Germany, and her Master's and undergraduate degree in psychology from the Universities of Heidelberg, Konstanz, and Exeter (England). Her research has been recognized by many awards, most recently an Early Career Scholar Award by UBC's Peter Wall Institute for Advanced Studies.
Scott de la Hunta
Case Studies for Choreographic Computation
Scott de la Hunta
Motion Bank Institute, Centre for Dance Research, Coventry University & Motion.Lab, Deakin University.
Abstract
In the last decade a range of artist-initiated interdisciplinary research projects have emerged from the field of contemporary choreography and dance that have embraced the idea that digital technology offers dance a more powerful and flexible tool for its recording, preservation & representation. We have the unique opportunity now to study the published results of these projects and pose critical questions about the possible role of computational media in the field of dance practice, and by extension other fields exploring the intersection between movement and computing. With this opportunity in mind, this talk will draw on a selection of these projects (as case studies) involving the choreographers William Forsythe (DE), Wayne McGregor & Jonathan Burrows (UK) and Deborah Hay (US).
Related link: http://motionbank.org
Bio:
Scott deLahunta has worked as writer, researcher and organiser on a range of international projects bringing performing arts with a focus on choreography into conjunction with other disciplines and practices. He is currently Director of Motion Bank/ The Forsythe Company and Senior Research Fellow in partnership with Coventry University (UK) & Deakin University (AUS).
Sidney Fels
Design for Human Experience and Expression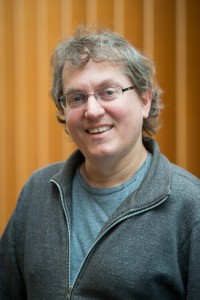 Sidney Fels, Professor
Head of the Human Communication Technologies Research Laboratory.
Dept. of Electrical and Computer Engineering
The University of British Columbia

Abstract
Research at the Media and Graphics Interdisciplinary Centre (MAGIC; www.magic.ubc.ca) and the Human Communications Technology (HCT) laboratory (hct.ece.ubc.ca) has been targeting design for human experience and expression. In this presentation, I'll start with a discussion of gesture-to-speech and voice explorations, including Glove-TalkII and the Digital Ventriloquized Actors (DIVAs). I'll connect these to other explorations of the new interfaces for musical and visual expression that we have created. I'll then show some more work on new forms of personalized video viewing that we call the MyView system. MyView creates a new viewing experience though integrating human memory patterns into the navigation, browsing, annotation, authoring and sharing mechanisms. I will briefly discuss our work on modelling human anatomy (www.parametrichuman.org) and function, such as speaking, chewing, swallowing and breathing (www.magic.ubc.ca/OPAL.htm) with biomechanical models using our toolkit Artisynth (www.artisynth.org). This work is motivated by our quest to make a new vocal instrument that can be controlled by gesture. I'll discuss some of the activities we have been doing on some new 3D displays: pCubee and Spheree. Finally, these investigations will be used to support a theory of designing for intimacy and discussions of perspectives on human computer interaction for new experiences and forms of expression.
Bio:
Sid has been in the department of Electrical & Computer Engineering at the University of British Columbia since 1998. Sidney received his Ph.D. and M.Sc. in Computer Science at the University of Toronto in 1994 and 1990 respectively. He received his B.A.Sc. in Electrical Engineering at the University of Waterloo in 1988. He was
recognized as a Distinguished University Scholar at UBC from 2004. He was a visiting researcher at ATR Media Integration & Communications Research Laboratories in Kyoto, Japan from 1996 to 1997. He also worked at Virtual Technologies Inc. in Palo Alto, CA. He is internationally known for his work in human-computer interaction, biomechanical modeling of human anatomy, and new interfaces for musical expression and interactive arts. He is a principal investigator on the Canadian Networks Centre of Excellence on Graphics, Animation and New Media (GRAND) from 2010-2015. He was the Director of the Media and Graphics Interdisciplinary Centre (MAGIC) from 2001-2012.